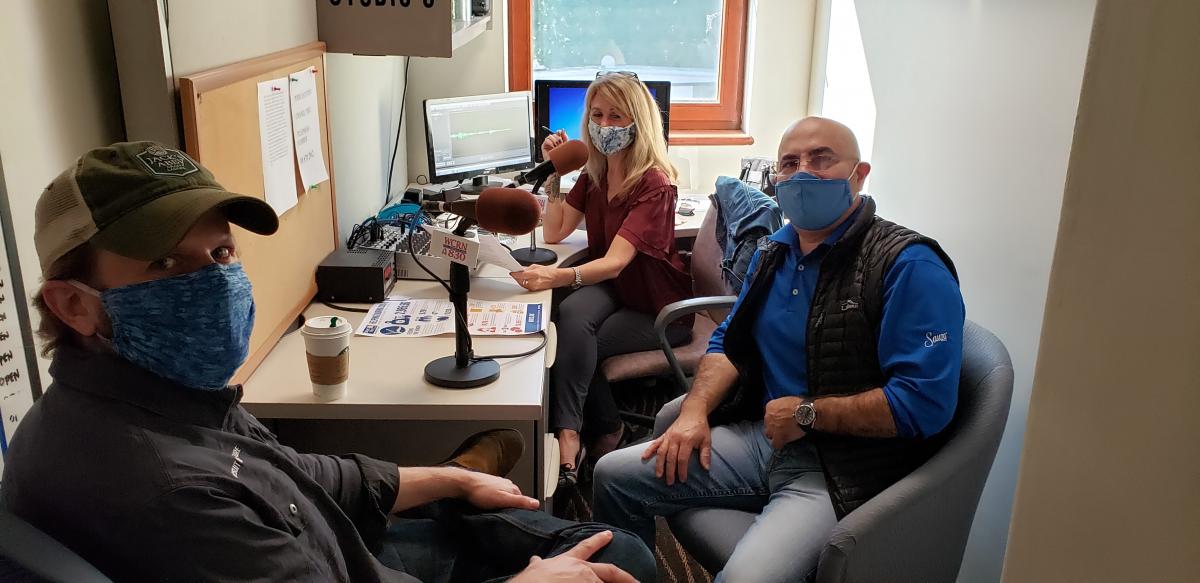 Westborough, MA – WCRN 830 AM is adding a new show to their Saturday line up. All Things United  – conversations with the United Way of Tri-County, will hit local airwaves for the first time on Saturday, October 10 at 2:00 pm.  
The United Way of Tri-County (UWTC) has been serving the MetroWest/495 corridor region for more than 25 years, providing resources and programs to individuals and families in need.
"We value our friends at WCRN 830 who have made this show possible and applaud them for all they do for non-profit organizations in our area," said Erin Daley, UWTC's Resource Development Manager and the show's host.  "We realize what a wonderful opportunity we have been given to inform residents about the individuals and businesses who make our work possible and look forward to sharing their stories with WCRN listeners.  We have several great guests lined up in the coming weeks and hope our listeners will tune in to learn more about how needs in the community are being met, and to highlight those kind souls who jump in to help."  
United Way President & CEO Paul Mina adds, "We are thrilled to be working with WCRN 830 on the show and for the audience to learn more about our work in the community. We welcome the opportunity to provide information about local resources, and for the show's listeners to discover how their support directly impacts neighborhoods in the cities and towns we serve, especially now during these extraordinary times."
Guests for the first show include Jack Hendler, co-owner of Jack's Abby Craft Lagers in Framingham and Ryan Maloney, owner of Julio's Liquors of Westborough, both sponsoring the Jack's Abby United Way Virtual 5K.  The 5K fundraising event runs from October 10 through October 17.   
Additional guests include Paul Mina, UWTC President & CEO and Special Event Manager Sandy Baldi, who will talk about upcoming United Way of Tri-County events the community can support. 
WCRN Station Manager Dr. Chris Thompson states, "I am excited to add the United Way to our program schedule and I look forward to working with them for years to come."
The United Way of Tri-County runs a robust hunger relief program, feeding thousands of hungry families each month.  The organization also provides early literacy programs for at-risk children from birth to age five, ensuring all kids enter kindergarten ready to learn.  UWTC has grown Call2Talk, their statewide emotional support, mental health, and suicide prevention line from five calls in December of 2013 to more than 68,000 calls last year. The organization also operates Mass2-1-1, the statewide information and referral line connecting residents across the Commonwealth to information and resources in their area. Mass2-1-1 was activated by Governor Charlie Baker in March to answer calls regarding the COVID-19 pandemic in addition to its regular operation.  Call takers are available 24/7 and answers calls in more than 150 languages.  Mass2-1-1 recently hit a milestone of answering more than 120,000 COVID-19 related calls since they began in March.  The calls are free and confidential and call takers can be reached by dialing 2-1-1 from any landline or cell phone in Massachusetts.
About the United Way of Tri-County
The United Way of Tri-County is a community building organization that brings people together to care for one another. We provide programs and services, connect volunteers, strengthen agencies, teach social responsibility, and meet the critical needs of the community with the help of people like you.  For more information visit our
website
.