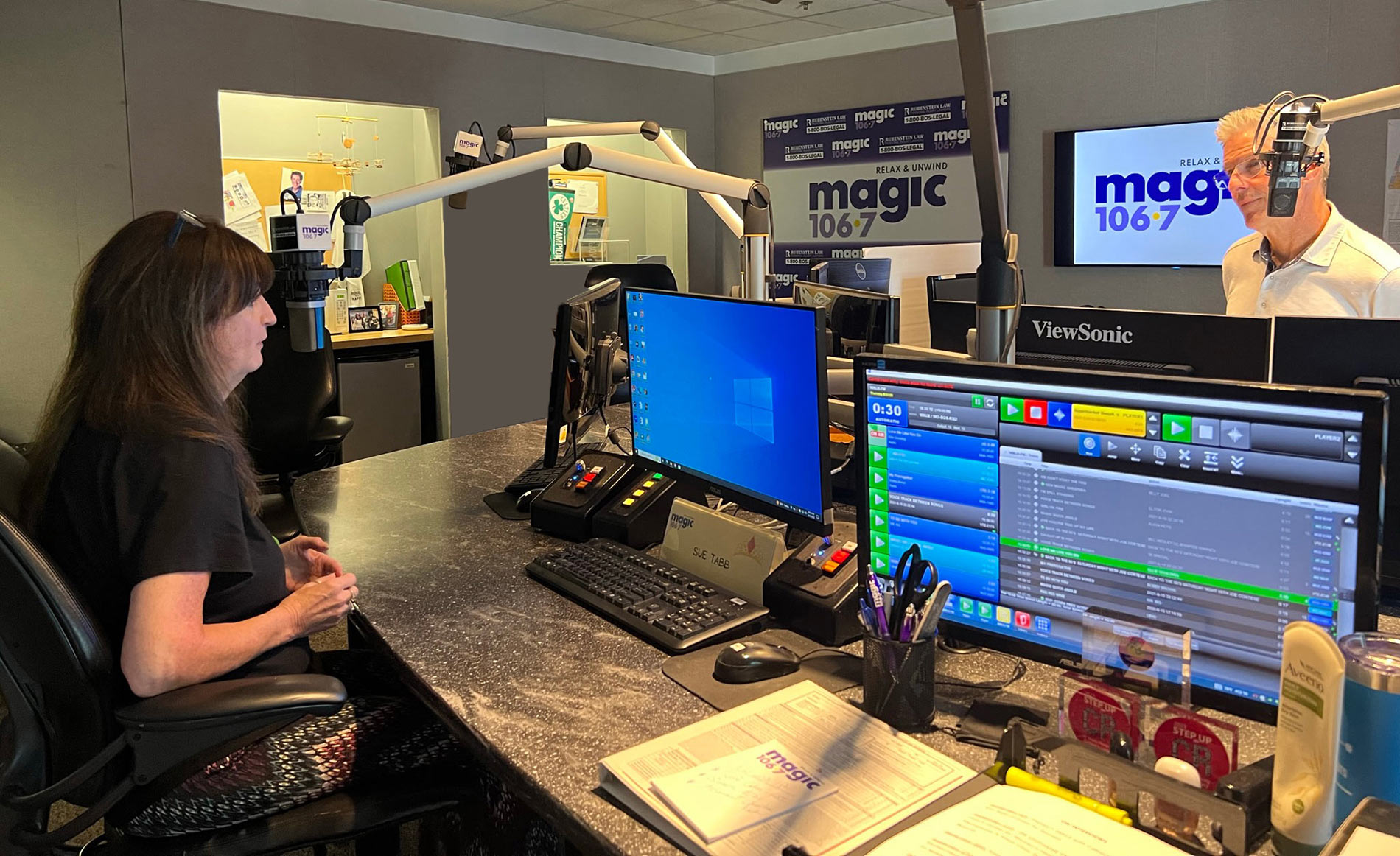 September may be National Suicide Prevention Month, but at Call2Talk, that's the work our call takers do every day—all 24 hours of the day, in fact, as they answer the phone and reassuringly say, "Call2Talk, we're here to listen."
 
Eileen Davis, Vice President of Mass211 and Director of Call2Talk, was in the MAGIC 106.7 FM studio recently, talking to morning show co-host David O'Leary about how to stop someone from wanting to die. Suicide is now the 11th leading cause of death in the United States and Eileen said this needs our attention. She explained that September is a dedicated time for everyone to pause and realize there's help out there—and that someone you love may need it. O'Leary, a suicide prevention advocate, taped the discussion for his upcoming special broadcast on Audacy called, "I'm Listening."
 
When a trained crisis counselor answers the line at Call2Talk, they know they will be greeted by someone on the other end who's struggling. The caller may have had a bad day, they may be struggling with a mental health concern or they might actually be thinking about dying—especially if they've called in through the national 988 Suicide & Crisis Lifeline. The caller could also be friend or family member who's scared and feeling helpless while trying to figure out how to best support someone they care about who is at risk for suicide.
 
"When you're experiencing those kinds of feelings, it can feel like you're all alone, don't know where to turn or what to do," Eileen said during the taping. "Calling a service such as 988 or 211 can absolutely help you to feel heard and validated. It then  begins the process of exploring options about how we can best help. We all have to be there for each other."
 
As the dedicated mental health helpline of Mass211, a free, confidential statewide service, Call2Talk is there for anyone feeling "any type of emotion." It's a service, Eileen said, "that accepts callers where they're at." 
 
"We welcome callers who want to talk about their day-to-day struggles to those that are feeling imminently at risk," she said. The goal is to have an open dialogue, deescalate any crises and help anyone who may be feeling desperate get to a "suicide-safer" space. That involves trying to pause suicidal ideations, which, according to the National Institute of Health, is a broad term for a range of contemplations, wishes and preoccupations with death and suicide.
 
"Right outside my door I can hear call-takers all day long fielding calls and compassionately meeting callers where they're at to deescalate their emotional pain, suggesting options, helping support their decisions and actually inviting them to call back," Eileen said, so the caller can "circle back" on how the safety plan they developed is working out. 
 
Call2Talk, which soon celebrates its 10th year, is raising awareness of suicide this month in several ways. One is the radio spot, which airs Sept. 20 on MAGIC 106.7 and other Audacy stations across the country; Another is an event co-sponsored by the MetroWest Regional Coalition for Suicide Prevention on Saturday, Sept. 23 called "Planting Seeds of Hope." 
 
Community members are welcome to come to the United Way of Tri-County's new Community Garden at 46 Park St. and plant flower bulbs in memory of those lost to suicide. The event runs from 2-5pm, and community partners will be there to provide resources for hope. 
 
For the radio spot, Eileen mentioned many of Call2Talk's programs, including LOSSteam MetroWest, which supports suicide loss survivors in real time and partners with area police departments as well as the new MOVE4ward support group for women who have lost a spouse or partner to suicide. Call2Talk also offers the TeleCheck program for older adults who need extra support following sudden life changes such as illness or bereavement, operated in partnership with Springwell and Advocates, Inc.
 
Call2Talk is always looking to recruit and train interested volunteers to help answer the helpline. Learn more at www.mass211.org/call2talk.
 
"The launch of 988 has really increased our incoming call volume exponentially," Eileen said. "There's a lot of people calling for the first time." When appropriate, local resources can be given for next steps."
 
David O'Leary noted the latest statistics from the CDC show a rise in suicide rates, including among people of color, older white men and young people.
 
"Our teens and our young adults are living through a time that none of us have ever experienced before.  They are really challenged with the effects of the pandemic and the impact that it's had on their lives. They have been isolated and are constantly being swarmed with bad news. It's unescapable.  You can't go a day without hearing about a tragic event such as a mass shooting, political controversary, wild fires, international unrest, the high cost of enjoying life and just pure uncertainty.  All of which is very difficult for young people to process."
 
Eileen said the risk factor for suicide climbs when those who are struggling don't ask for help because they're afraid to burden others.
 
"They hesitate to reach out to us at our call centers as they don't think we'll understand and maybe their problem isn't as worthy as someone else's problem.   That's a really hard hurdle to overcome. However, we do want to hear from you. We want people to call in at the earliest inkling of something not feeling right and to feel comfortable so they can stay balanced and focused and be able to put one foot in front of the other to see the next day.  We want to help them navigate the next steps of their journey."
 
David O'Leary, an active volunteer with the Massachusetts Chapter of the American Foundation for Suicide Prevention, said he knows having a listening ear—and someone to say, "You are not alone"—can make all the difference when someone is experiencing a suicidal impulse.
 
"In that moment," he said, "you can very often save a life."
 
You can reach Call2Talk anytime, 24/7, by dialing: 988 • 211 x25 • 1-800-273-TALK • 508-532-2255 or 413-505-5111, or text C2T to 741741.