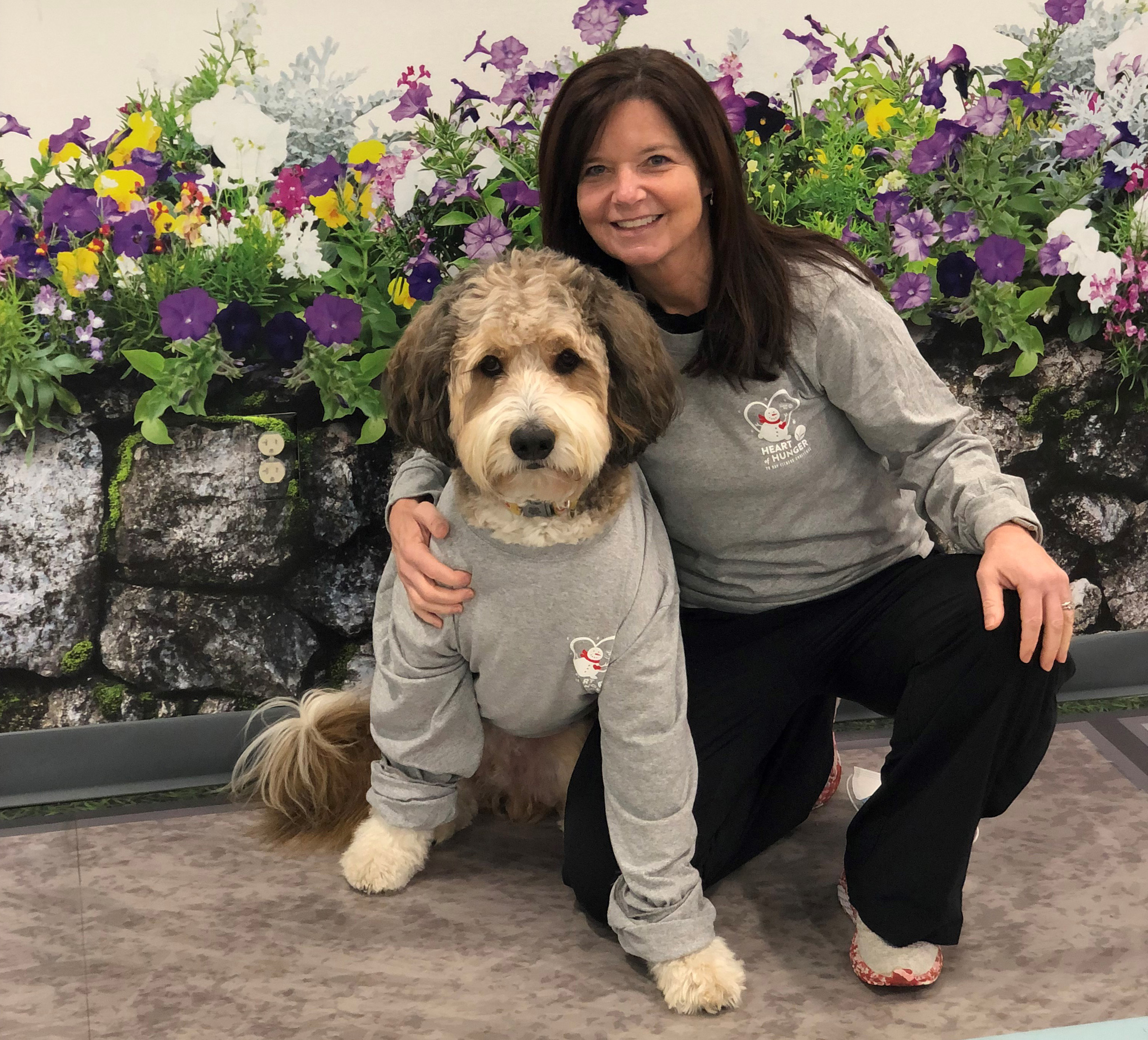 Our Heart of Hunger Challenge, which encouraged outdoor physical fitness during the month of February, raised close to $10,000 this year to help us feed the hungry. The Boston Ability Center was a sponsor and has been one of the biggest supporters of the challenge since its start in 2021. BAC, based in Wellesley Hills and Natick, offers different types of therapy services for children and provides clinical excellence in an environment that's also fun. The big loveable face of the BAC is Stanley, the Bernedoodle therapy dog! Jan, the director, has a doctorate in physical therapy and has been working with kids in the Boston area for 20 years.
Q: Tell us more about the Boston Ability Center!
A: The Boston Ability Center is an outpatient pediatric rehab center with offices in Wellesley and in Natick. We provide physical therapy, occupational therapy, speech/language therapy and feeding therapy for children ages 0 to 18 yrs. Our goal is to ensure that every child maximizes their abilities and parents feel empowered by knowledge and support. The children we see work so hard, and we know that having fun while working hard is essential to achieving their goals. Our play-based therapies are designed to honor every child's unique characteristics while improving functional skills and confidence along the way.
Q: Why did BAC first decide to sponsor the United Way of Tri-County's Heart of Hunger Challenge back in 2021? 
A: We had recently opened our Natick clinic and wanted to find meaningful ways to get involved in the neighboring community. Soon after, the pandemic rolled in and changed all of our lives. We were well aware of the significant increase in families who were experiencing food insecurity in our community and felt the Heart of Hunger challenge was a great way for our staff to play a small part in the effort to reduce food insecurity.
Q: We're so grateful that you're not only sponsoring the challenge but participating too! Why did you decide to join in?
A: Although I much prefer warm weather, I really do love the challenge of bundling up and getting outside every day. The days when I'm really tired and don't feel like going outside tend to be the days that my perspective gets the best boost from the mile walk through my neighborhood. As I pile on the layers to stay warm, I try to center my thoughts on the importance of caring for one another as human beings. I love knowing that my participation is part of the larger effort to make a difference.
Q: We started off February with some brutally cold days, but we've also had some spring-like days! How did it go for your team? 
A: Our team did great! We have an email chain where we share pictures of our walks, so it's always fun to see where and when our team manages to squeeze in their miles. It's also fun to see team members partnering up to get their mile when they have breaks throughout the work day. 
Q: Introduce us to Stanley! Is he participating in the Heart of Hunger Challenge?
A: I think Stanley is our most enthusiastic participant! Stanely is the BAC's beloved therapy dog. He is an 80-pound Bernedoodle , and winter is his time to shine! He has a big thick coat and loves the snow. I'm lucky because he is also our family dog so I benefit from his encouragement whether I'm walking at home or at work.
Q: Has the challenge helped with team building?
A: Yes! Our team is so supportive of one another. It's been great to see our staff really encourage one another. Even those who aren't participating have been supportive of their colleagues.
Q: Hunger is a big issue right now. What does it mean to you that all proceeds from the Heart of Hunger are going to feed our neighbors in need, and your sponsorship supports this?
A: Hunger and food insecurity in our community are not okay. I think the pandemic shed light on the fact that given the high cost of living in this area, many in our community are vulnerable to how quickly circumstances can change. I really appreciate the fact that the Heart of Hunger utilizes a low-cost fund-raising idea to both build community and stretch the impact of the money it raises. It's brilliant and we are all proud to be part of it.