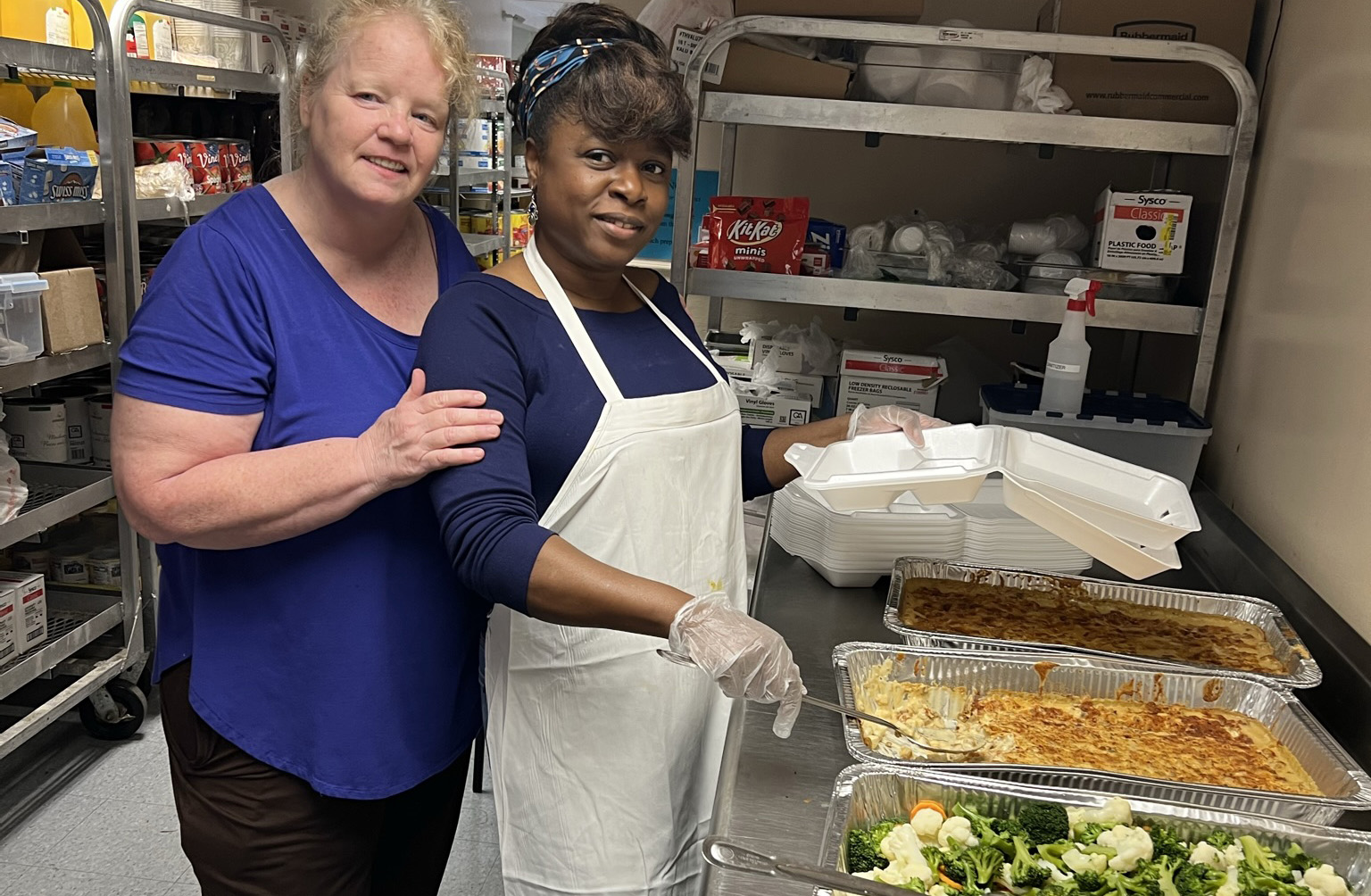 As a single mom of a 16-year-old son, Mona has relied on our Pearl Street Cupboard & Café when she can't afford food. When Mona noticed how busy the pantry was the last time she came in, she asked if she could help. She started volunteering and the timing was both a stroke of luck and complete coincidence: We had just started serving meals to 150 Haitian asylum-seekers here in Framingham and Chef Vicki Cataldo was in the kitchen, right that second, trying to fry bananas to taste like plantains for them.
 
Chef Vicki walked out to the pantry, where volunteers were bagging groceries, and told Administrative Assistant Linda Rodriguez she could desperately use a volunteer who's from Haiti to help her out.
 
Mona, almost unbelievably, turned around and said, "I'm from Haiti."
 
Vicki whisked her into the kitchen, and Mona immediately started helping plan meals. She knew how the people of her home country like their food: HOT (with a kick) and SPICY (sizzling)! "It's a cultural thing," Mona said.
At Framingham Mayor Charlie Sisitsky's request, our Pearl Street Cupboard & Café staff provided three meals a day to 150 asylum-seekers placed here in Framingham, until a state contractor took over food services. It was a short but impactful experience for our entire staff as we all pitched in to package and deliver the meals, and Mona's cultural insight and hands-on help was invaluable. Pearl Street Cupboard & Café Director Joe Mina led the team effort, which started the morning of Aug. 18 when we brought in Starbucks breakfast sandwiches served with yogurt, apples, bananas and a fruit cup to those individuals and families (many with small children) staying at Motel 6.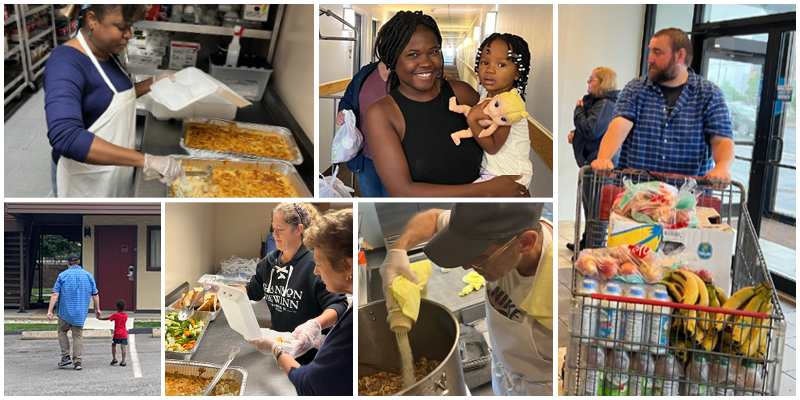 Chef Vicki and her assistant, Michael, made American chop suey (a crowd favorite at the café) for dinner that first night. After hearing Mona's input, the menu changed to more culturally beloved meals like spaghetti mixed with hot dog and tomato sauce, and Gratiné pomme de terre made with spicy meat. Mona modified a favorite Haitian casserole recipe usually made with ground beef and macaroni by using the ingredients that we had on hand: potatoes, cheese, peppers, onions and spicy chorizo patties.
 
"I'm happy that we had those patties," said Mona, who gave Vicki tips about Haitians liking the two kinds of spice—as well as a bigger midday meal and lighter one in the evening. Mona was happy to suggest things like chicken drumsticks with rice and veggies for lunch and then a deli sandwich for dinner. She not only helped cook, but came along to help us serve meals and translate for her fellow Haitians. "I came here just to help," she said.
  
Mona, who came to the US on a tourist visa before earning her green card in 2021, used to be a medical doctor in Haiti where she did humanitarian work and was very involved with helping after a devastating earthquake in 2010. She followed her family to the states where she now works as a nurse while studying for a Master's degree in public health.
 
"Starting a new life isn't easy," Mona said. "I left everything behind. I miss my country because Haiti is a beautiful country and it's heartbreaking what's happening there."
 
United Way of Tri-County President and CEO Paul Mina, along with Joe Mina, were at the table with the City of Framingham and numerous partners, including Jewish Family Services of MetroWest, MetroWest Legal Services, Framingham Public Schools, the South Middlesex Opportunity Council, MetroWest Regional Transit Authority and many other nonprofit and religious leaders in the city, all working together on the crisis response. The refugees escaped gang violence, sociopolitical upheaval, and a cholera epidemic. The President of Haiti was assassinated in 2021. And according to the UN and Amnesty International, the rights of Haitian citizens are being violated and they are in danger of being jailed or tortured. With over 6,000 migrant families now in Massachusetts, Gov. Maura Healey has declared a state of emergency and ordered the National Guard to provide basic services at some of the hotels now being used as emergency shelters. As one of the largest providers of food in MetroWest, it was our honor at UWTC to provide meals and start building friendships and a safety net for these Haitian asylum-seekers.
 
"By the end we had figured out how to communicate and they were really working on their English," said Jen Bray, the United Way of Tri-County's Resource Development Manager. "The kids loved to help us load the boxes in and out of the truck."
 
Jen captured one memorable moment in a photo: one young Haitian boy holding Joe Mina's hand as they crossed the Red Roof Inn's busy parking lot.
 
We're glad to be able to lend a hand 'up' to these new community members arriving here in Massachusetts seeking refuge and wanting to pursue the American Dream. That's why Mona first came to the US.
 
She said it felt self-deprecating to go from being a highly regarded doctor in Haiti to a C.N.A. here in the states, but she is always trying to better herself and provide for her son, Phillipe.
 
"I realized that my career doesn't define me. I am who I am," she said. "I am Mona, and I know who I am."