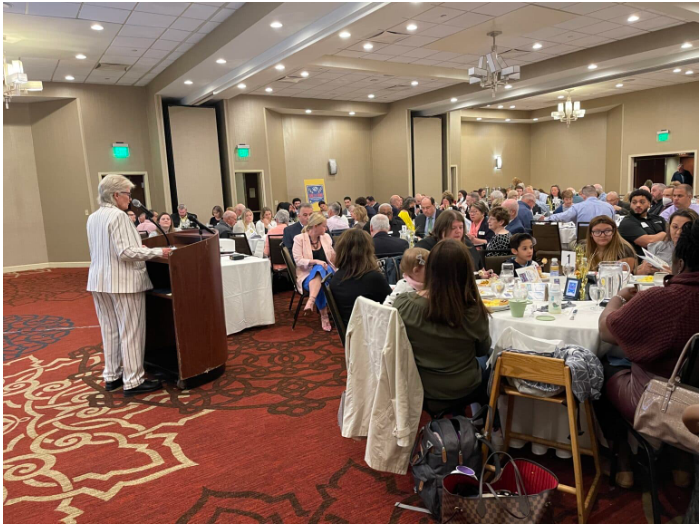 MARLBOROUGH – Roughly 160 community members turned out earlier this month for the Boys & Girls Clubs of MetroWest Hall of Fame Breakfast at the Courtyard Marriott in Marlborough. 
Gathering on May 19 to honor a slate of lifelong Boys & Girls Clubs contributors, the event marked a long awaited and welcome celebration. 
"Being able to honor [these individuals] in a way that not only acknowledges all that they've done, but all that they continue to do for us really sends the message to our current members that 'You're part of an organization that has such a long standing legacy and such a long history, especially here in Marlborough," Director of Resource Development Laura Terzigni told the Community Advocate after the breakfast. 
"You're part of the history and your great future is part of our future," she continued.
The Hall of Fame Breakfast formally inducted Rosemary Corley, Joshua Major-Paschal, Paul Mina, Marylou Vanzini and Bill Miller into the Boys & Girls Clubs Hall of Fame.
Patty Miele, meanwhile, won the Clubs' Ron Young Memorial Award. 
Inductees boast long careers
Corley is a Hudson resident who has been involved with the Boys & Girls Clubs since 1995, when she took positions as a member of the Board of Governers and as a member of the scholarship committee. 
Major-Pascha has been a member of the Framingham Club of the Boys & Girls Clubs of MetroWest since 2005, developing a love for music and dance and building a thriving music career.
Mina has been involved with the Boys & Girls Clubs for more than 55 years as both a Club kid and employee. He's now the President and CEO of the United Way of Tri-County and previously helped merge the Marlborough Boys & Girls Club, the Hudson Boys & Girls Club and the Hudson Youth center, among other contributions.
Vanzini is a lifelong Marlborough resident who once met with the then Marlborough Boys Club Director in the 1950s to convince him to allow a girls night at the Club. She then helped found the Marlborough Girls Club, also serving on the Marlborough School Committee and founding the Citizens Scholarship Foundation in town.
Miller helped found the Marlborough Youth Basketball Association and was a long-serving member of the Boys & Girls Clubs of MetroWest Board of Directors. He received a number of honors related to his work prior to his passing in 2016. His wife, Janet, and son, Michael, accepted this Hall of Fame award on his behalf. 
Outside of Hall of Fame inductees, this month's event honored Miele with the first ever Ron Young Memorial Award, in memory of former Boys and Girls Clubs of MetroWest CEO Ron Young.
Miele was Young's first executive assistant and worked with him throughout his entire tenure with the club.
Clubs eye summer programming
With their Hall of Fame Breakfast now complete, Boys & Girls Clubs staff are excited about an ongoing return to in-person programming. 
Plans include full summer camp programming, which is launching at the end of June. 
Though camps had continued through the COVID-19 pandemic, the Clubs scaled back offerings, cutting field trips.
Field trips are now back in the schedule. 
"We're excited to bring camp back in its former glory now that we're moving forward," Terzigni said. 
Registration for summer camps is still open.