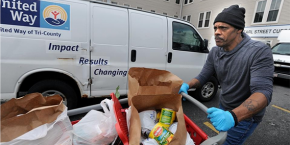 United Way as the result of a donation by Revolution Foods of 33,000 frozen meals will begin to distribute them throughout MetroWest, Greater Milford and across Massachusetts beginning on Monday. This is in addition to the Pearl Street Cafés nightly meal count which has more than doubled in the last week said Pearl Street Cupboard & Café Director Joe Mina.
By Lauren Young / Daily News Staff
FRAMINGHAM - Since Monday, the Pearl Street Cupboard food pantry in Framingham has handed out more than 64,000 pounds of food per day to residents in need from MetroWest and Greater Milford, according to pantry Director Joe Mina.
That amount of food weighs about as much as three school buses.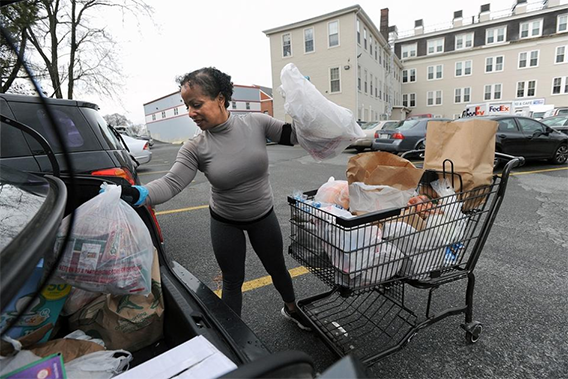 Bagging thousands of pounds of groceries with volunteers at midday Friday, Mina said at least 25 people were lined up outside the pantry, eagerly waiting to receive groceries.
Also since Monday, the Pearl Street Café (a nightly hot meal program operated by United Way located at the same location) was required to provide take-out meals only due to the Governor's COVID-19 guidelines from dining in to only offering to-go meals. Since then, the café has been feeding more than double the number of families it's normally used to feeding at the hot meal program, he said.
"It's a very disturbing situation," said Paul Mina, president of United Way of Tri-County. "We have families driving all the way from Springfield to get food."
On Thursday night, the café served more than 1,400 meals to 294 households, according to Joe Mina. The café is used to serving about half that number on a regular basis. Thankfully, the program has received help from a number of organizations to make sure there is enough food.
On Thursday, Revolution Foods, a California-based school lunch vendor, donated more than 30,000 microwavable meals to the United Way to be distributed throughout Massachusetts said Mina.
Those microwavable breakfast and lunch meals range from options like chicken nuggets to frozen vegetables and allergy-friendly sandwiches, he said. At least 5,000 of those meals were delivered by the United Way to Worcester before Friday afternoon. Revolution Foods plans on supplying the organization with more meals as needed, Mina added.
As the result of a very generous donation by the Lutheran Church of Framingham the United Way will be able to expand the evening meal program to include weekends. The plan is to offer a noontime meal on both Saturday and Sunday beginning in three weeks said Mina
Pantries, brewery feed needy students with free pizza, food drives as schools close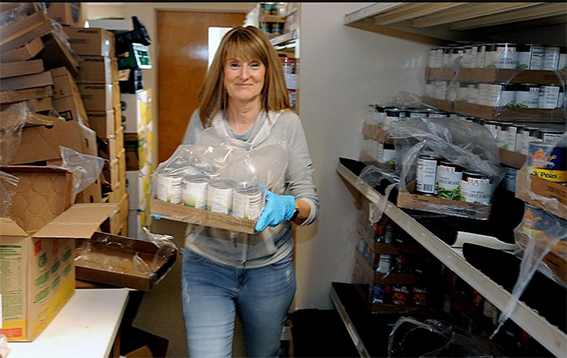 The pantry has also been aiding other local pantries that need extra meals, although Paul Mina said the reason some pantries are closing isn't because they're running out of food. 
"The only reason most places would consider closing is because they don't have any volunteers left," he said, as many volunteers tend to be older adults or are immuno-compromised - two groups most at risk of falling severely ill from the virus, according to the Centers for Disease Control and Prevention (CDC).
While the Framingham pantry's supply of food is substantial, Joe Mina said the following are items still being accepted:
Pasta
 
Cereal
 
Baked mixes
 
Toiletries
The Pearl Street Cupboard & Café is open from 9 a.m. to 1 p.m. on Monday, Wednesday and Friday and Wednesday evening from 5-7 p.m. Call the pantry at 508-879-2063 for more information. For emergency food you can call Paul Mina at 508-561-5811, or email him at
paul.mina@uwotc.org
. Donations are sorely needed for the United Way to continue to provide these services during the COVID-19 public health emergency. Donations can be made online at
www.uwotc.org/covid
or by
texting
keyword
MACOVID
to
40403
Staff Photos by Art Illman