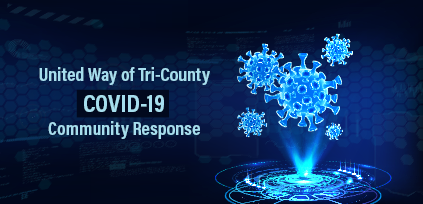 The United Way of Tri-County (UWTC) has been monitoring recent developments amid the COVID-19 (Coronavirus) infection. We understand people in communities in the MetroWest/495 Corridor region and across Massachusetts are being impacted by this unprecedented public health issue. The United Way is always here to provide resources and information in times of need.
United Way Food Programs Responding to Increased Need
Vulnerable individuals and families already struggling to afford food are now faced with the additional challenges of school closings, job disruptions, lack of paid sick leave, and the virus' disparate impact on adults over 60 and lower-income families. This is all contributing to a much higher demand on hunger relief agencies locally, across the state, and the country.
The United Way of Tri-County's three food pantries and two hot meals programs remain open following their usual schedules (see
https://www.uwotc.org/food
). UWTC is increasing the amount of groceries provided to families to respond to the thousands of school-age children now missing out on free breakfast and lunch at school due to recent closings. Evening meals will be available for takeout only for the foreseeable future. 
Paul Mina, UWTC's President & CEO said, "Unfortunately, we don't know how long this extraordinary situation will last, a few days, a few weeks, perhaps even months. Please know that our pantries and meal programs will continue to provide the nutritious food our neighbors need today and always."
United Way / Mass2-1-1 Increasing Services to Respond to the COVID-19 Pandemic
On Friday, Governor Baker asked citizens of the Commonwealth to call the United Ways' Mass2-1-1 information and referral line for the most accurate and up-to-date information on the Coronavirus.
Residents can call this free, confidential line by dialing 2-1-1 from any landline or cell phone, to talk to trained call-takers 24/7, who will answer questions regarding COVID-19, and direct callers to local agencies or programs as needed. Mass2-1-1 was activated for COVID-19, in addition to its regular information and referral service, to address the overwhelming number of calls to the Massachusetts Department of Public Health and other local agencies. Mass2-1-1 is the public's first and best source to connect callers with critical information about the Coronavirus as well as related or independent health and human service needs. Mass2-1-1 Coronavirus operators will remain ready to answer calls as long as needed. 
These are extraordinary times for the all of us. The United Way of Tri-County relies on the generosity of others and donations for our programs are always needed and gratefully accepted. We hope you will join with us during this time of crisis and uncertainty and donate today.
Thank you for supporting the organization that puts your money where your heart is.